Welcome!
Jefferson Dollars for Scholars®, a chapter of Scholarship America® is located in Metairie, Louisiana. We provide educational opportunities for the students in Jefferson Parish Public Schools and help keep students local, growing our community. Click on the "About Us" tab above to learn about all our programs and how you can help.
"Like" us on Facebook and follow us on Twitter @Jeff4Scholars and Instagram at jeffersondollarsforscholars for the most up to date information of goings on at the Jefferson Dollars for Scholars!!
----------------------------------------------------
In Memoriam
Cathy Lund Goslee Vaughn
 a founding Board Member of Jefferson Dollars for Scholars and former Jefferson Parish School System Administrator 
died peacefully on Friday, May 24.  Her family has created The Cathy Vaughn Scholarship Fund in her honor. 
Donations can be made on our Donate Now page above, and her family will be notified of your gift.  
A remarkable life dedicated to service, friendship, and education.  
https://www.legacy.com/obituaries/theneworleansadvocate/obituary.aspx?n=catherine-lund-goslee-vaughn-cathy&pid=192999599&fhid=5630
---
It's Amazon Prime Day!!!!!
Support Jefferson Dollars for Scholars' students by
shopping for deals
at smile.amazon.com
on July 15th and 16th
. Every dollar you spend will go towards providing enrichment camp and college scholarships to deserving students in Jefferson Parish.
---
Attention Scholarship Recipients...
Due to the Tropical Storm Barry, the deadline to renew your Jefferson Dollars for Scholars award has been extended to Friday, July 19th.
Send your form electronically either by fax to 504.831.2621 or email to mail@jeffersondollarsforscholars.org.
Contact the office at 504.831.1565 if you have questions.
Click
here
to download the 2019 Scholarship Renewal Form!!!
---
Attention 2019 Award Recipients!!!
Your requested Refurbished Laptops are here!!!
Pick-up dates and times are:
Tuesday, July 23rd from 12:00 am until 4:00 pm and
Tuesday, July 30th from 10:00 am until 2:00 pm
If you are unable to pick up your laptop during these times, send an email to mail@jeffersondollarsforscholars.org or call the office at 504.831.1565 to schedule an appointment.
***You will not be allowed to pick up your laptop before or after the allotted times WITHOUT AN APPOINTMENT.
You must come with your Photo ID!
Please come to our Metairie office - 3100 Ridgelake Drive, Suite 206.
Signage outside says Apuzzo Building.
Notice: Parking will be allowed without a pass ONLY for the above listed dates and times.
---
Congratulations to the 2019 High School and College Graduates!!!
We are so proud of you and wish you the best!
---
Click here to view photos from our
2019 Scholarship Awards
Ceremony
---
Click here to see the full video of the
2019 Scholarship Awards Ceremony.
---
See Jessica Ding, one of our 2015 Award Recipients, talk about her experience with Jefferson Dollars for Scholars!
---
---
Congratulations to
Jefferson Dollars for Scholars
for receiving a
2018 Proclamation
from
 Councilwoman Cynthia Lee-Sheng
and the
Jefferson Parish Council
---
Click here to learn about
additional scholarship opportunities.
---
Massachusetts learns about
Jefferson Dollars for Scholars!!!
---
Katy Wong is our 2017 Tulane award recipient!!!
See the beautiful wooden digital fabrication
of her award picture that she created!
We're so proud of you, Katy!!!
---
Jefferson Parish Schools are working hard to raise $1.00 per student and staff for our scholarship fund. Please support your child's school.
HUNDREDS of ambitious and dedicated students are looking to Jefferson Dollars for Scholars for educational assistance. Please go to the Donate Now page and DONATE what makes you feel good and proud to be part of a community that invests in its own future.
We will all be GLAD to have so many GRADS.
---
We're in the national newsletter!!!!!!!!!!!!!
inTouch, Scholarship America's monthly newsletter, recognizes Jefferson Dollars for Scholars in their February issue for its innovative Laptops for Scholars program, a program created so that every Jefferson Dollars for Scholars college scholarship recipient starts college with the most important school supply.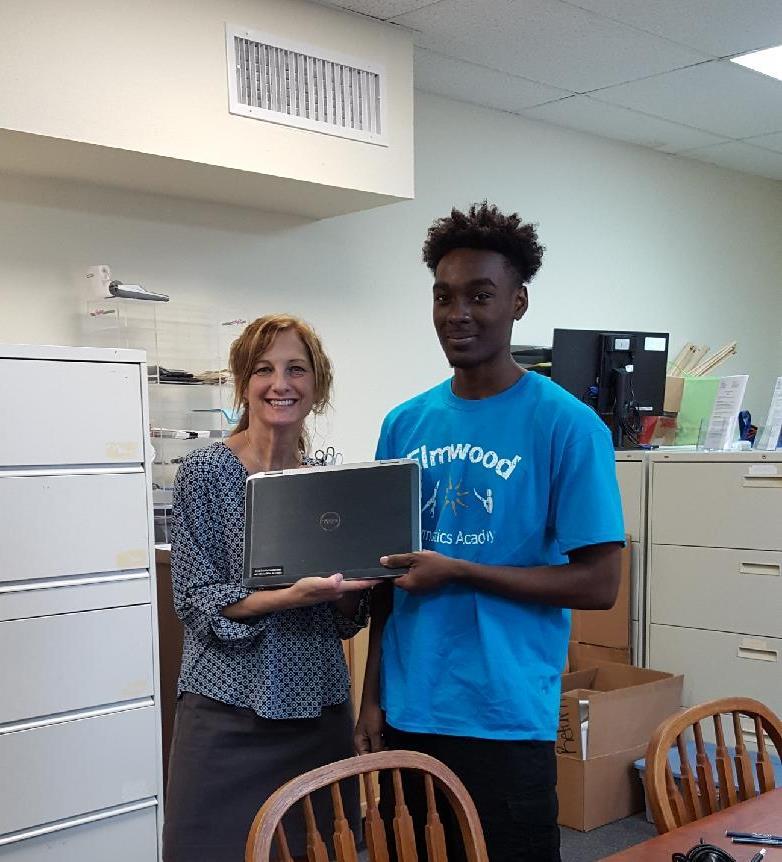 (Pictured above: Millie Baudier and Anthony Nunnery, a 2017 Cox Award Recipient)
Jefferson Dollars for Scholars has awarded scholarships to students in Jefferson Parish, LA since 1993. After Hurricane Katrina, the affiliate sought to meet the needs of their scholarship recipients in an additional way by providing refurbished laptops and has been doing so ever since. Jefferson Dollars for Scholars provides over 100 refurbished laptops annually to its award recipients. Laptops for Scholars is sponsored by Cox Communications, and Millie Baudier, our Board Member and Cox Community Specialist, presented the laptops.
---