Welcome!
Jefferson Dollars for Scholars®, a chapter of Scholarship America® is located in Metairie, Louisiana. We provide educational opportunities for the students in Jefferson Parish Public Schools and help keep students local, growing our community. Click on the "About Us" tab above to learn about all our programs and how you can help.
"Like" us on Facebook and follow us on Twitter @Jeff4Scholars and Instagram at jeffersondollarsforscholars for the most up to date information of goings on at the Jefferson Dollars for Scholars!!
---
Due to the school closings in Louisiana, we are extending the scholarship application deadline until further notice.
We will keep you updated as more information is provided.
---
The Crescent City Connections Express Network of the American Business Women's Association (ABWA) is offering 1 scholarship worth $1,000 and two scholarships worth $2,000 funded through the Stephen Bufton Memorial Educational Fund to 3 deserving area students.
Each year, local chapters of ABWA provide Stephen Bufton Memorial Scholarships (SBMEF) to female students who will be attending accredited U.S. colleges, universities and community/vocational schools. Applicants must be citizens of the United States; residents of Jefferson or Orleans Parish; entering college in August 2020, or enrolled in a graduate degree program, or enrolled in a community/vocational school, with a GPA of 2.5 or higher for community/vocational school, or 3.2 or higher for entering Freshman and graduate-level students. Eligible women interested in applying for the scholarship should contact:
Theresa Barnard or Shannon Edmondson, Scholarship Co-Chairs, Crescent City Connections Express Network of the American Business Women's Association by emailing them at ABWAcccscholarship@gmail.com
SBMEF, ABWA's national educational fund, is one of the most highly respected grants and scholarship funds in the country. For over 60 years, ABWA has helped women achieve their business and professional success through educational scholarships.  Since its inception, more than 17,000 women nationwide have been awarded more than 17 million dollars in scholarships.
 
The Stephen Bufton Memorial Educational Fund is a 501 (c) 3 charitable trust and public foundation. It has the same tax status as public schools, churches, and community funds. The fund is listed in the U.S. Internal Revenue Service "Cumulative List of Organizations" described in Section 170(c) of the IRS code of 1954 - revised Oct. 31, 1974.
---
Calling all STEM Scholars!
Lockheed Martin launched a new scholarship program in 2019 to provide opportunities to students who want to build their talents and change the world!
They are continuing to award scholarships of $10,000 per student - renewable each year. The program will continue to add up to 200 new recipients each year, and will be open to individuals studying engineering or computer science that demonstrate financial need and come from underrepresented or underserved communities.
Applications for the 2020-21 academic year are currently open and will close March 12, 2020.
Visit the Lockheed Martin website for more information.
---
Check out our DONOR Perks!!!
---
High School Class of 2020 College Applications
Carefully read the requirements and submit your completed application.
The Application Deadline is March 16, 2020.
MINIMUM REQUIREMENTS for eligibility
1. Graduating from a Jefferson Parish Public School or a Jefferson Parish resident graduating from the LA School of Math, Science and the Arts
2. A minimum cumulative grade point average of 3.0
3. A minimum ACT composite score of 20
4. A complete ONLINE application including Counselor's evaluation with ATTACHED transcript
a. Parent's Financial Information
b. Student Profile at 100% completion
c. Completed recommendation(s)
d. Custom questions regarding 1st, 2nd and 3rd choice colleges
e. "Submit" button grayed out on your Jefferson Dollars for Scholars Chapter's Scholarship
5. Graduating from high school December 2019 - 2020
~~~~~~~~~~~~~~~~
Have questions about FAFSA? Click here for more information!
Please be sure to check out this checklist to make sure you are submitting a COMPLETED application.
---

Best wishes to the Class of 2020!!!

Be awesome! Be brilliant! Be extraordinary!!!!
---
Click here to view photos from our
2019 Scholarship Awards
Ceremony
---
Click here to see the full video of the
2019 Scholarship Awards Ceremony.
---
See Jessica Ding, one of our 2015 Award Recipients, talk about her experience with Jefferson Dollars for Scholars!
---
---
Jefferson Parish Schools are working hard to raise $1.00 per student and staff for our scholarship fund. Please support your child's school.
HUNDREDS of ambitious and dedicated students are looking to Jefferson Dollars for Scholars for educational assistance. Please go to the Donate Now page and DONATE what makes you feel good and proud to be part of a community that invests in its own future.
We will all be GLAD to have so many GRADS.
---
We're in the Scholarship America national newsletter!!!!!!!!!!!!!
inTouch, Scholarship America's monthly newsletter, recognizes Jefferson Dollars for Scholars in their February issue for its innovative Laptops for Scholars program, a program created so that every Jefferson Dollars for Scholars college scholarship recipient starts college with the most important school supply.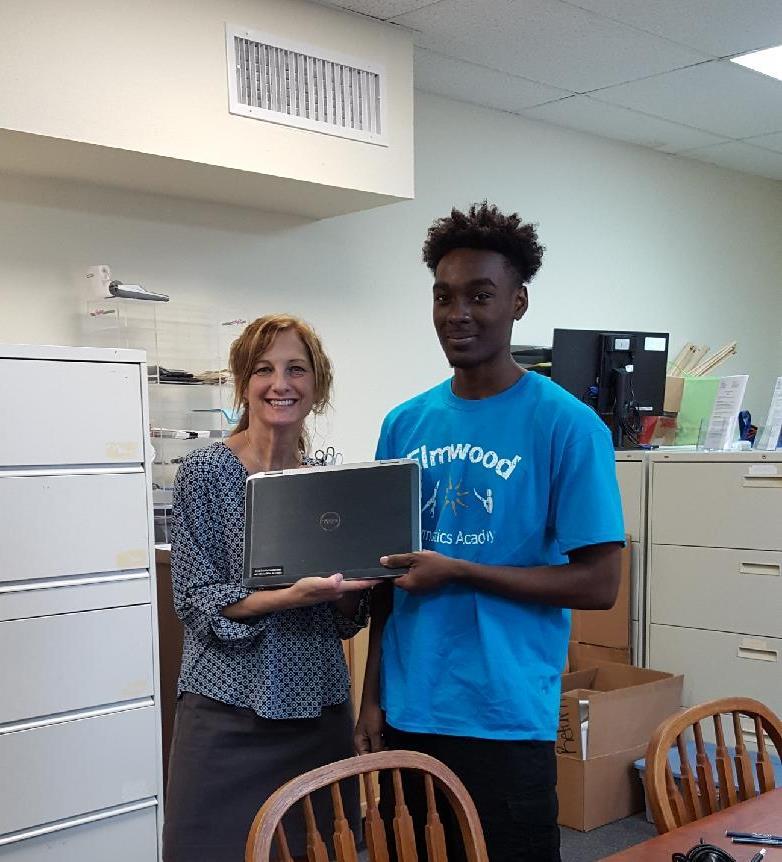 (Pictured above: Millie Baudier and Anthony Nunnery, a 2017 Cox Award Recipient)
Jefferson Dollars for Scholars has awarded scholarships to students in Jefferson Parish, LA since 1993. After Hurricane Katrina, the affiliate sought to meet the needs of their scholarship recipients in an additional way by providing refurbished laptops and has been doing so ever since. Jefferson Dollars for Scholars provides over 100 refurbished laptops annually to its award recipients. Laptops for Scholars is sponsored by Cox Communications, and Millie Baudier, our Board Member and Cox Community Specialist, presented the laptops.
---