Our Mission
The mission of Jefferson Dollars for Scholars® is to expand access to educational opportunities for Jefferson Parish Schools students
through scholarships and academic support.
Jefferson Dollars for Scholars is a chapter of Scholarship America®, the largest privately funded scholarship organization in the world.
There are 500 chapters nation-wide.
Founded in 1993, Jefferson Dollars for Scholars has awarded more than $27 million in scholarships to over 5,000 students.
Like all other chapters, Jefferson Dollars for Scholars is a local, grassroots organization that gets ALL of our funding from grants,
private businesses and corporates, as well as parents, friends and supporters of our cause.
We are the ONLY chapter to be nationally recognized 3 times for our outstanding work and commitment to our recipients! It is our national claim to fame and one of the highlights of Jefferson Parish itself!
---
Click below to view our 2022 Scholarship Awards Ceremony.
We are so proud of all of our award recipients.
Congratulations!!!
2022 Scholarship Awards Ceremony
---
You did it! You helped us blow the roof off of our goal for GiveNOLA Day 2022. Because of you and others like you, Jefferson Dollars for Scholars raised over $5,500! Thank you to everyone who donated.
Please continue to support us by spreading the word about Jefferson Dollars for Scholars. Every dollar donated goes toward providing financial assistance to any Jefferson Parish public school student that wants to attend college. We need your help to continue reaching that goal.
---
2022 Enrichment Camp Directory
This directory is updated often so please check periodically.
---
Attention High School Class of 2019, 2020, and 2021
Scholarship Award Recipients!!!
It is time to renew your scholarship award. Click here to complete and submit a copy of the 2022 Scholarship Renewal Form.
***Reminder***
To complete your renewal, you must submit a legible and printable copy of your 2021-2022 college transcript along with your 2022 Scholarship Renewal Form. Your transcript does not have to be official, but it must show grades from both the 2021 Fall and 2022 Spring semesters along with a cumulative GPA. Your renewal is considered incomplete unless we receive both the requested documents.
 The deadline to renew is Friday, July 29, 2022.
---
Support Jefferson Dollars for Scholars on Smile.Amazon.com
Select Jefferson Dollars for Scholars as your AmazonSmile charity.
  When you shop at smile.amazon.com, you will be helping the students in Jefferson Parish and it's at no extra cost to you. AmazonSmile offers the same products and same low prices, with the bonus that they send a cash donation to us!   We won't know our donors' names so Thank You to all who shop with us.
#amazonsmilecharity #amazonsmiledonates"
---
Click on the Students & Parents tab and go to the Other Scholarships
page to see additional scholarship opportunities you may be eligible for.
---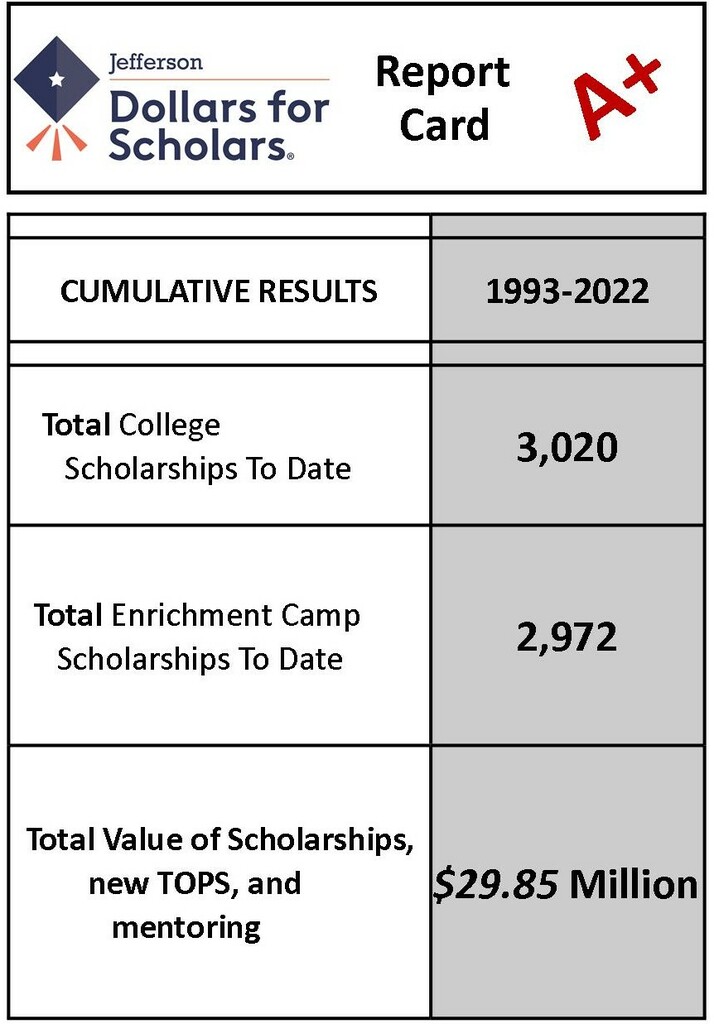 ---
---