Welcome!
Jefferson Dollars for Scholars®, a chapter of Scholarship America® is located in Metairie, Louisiana. We provide educational opportunities for the students in Jefferson Parish Public Schools and help keep students local, growing our community. Click on the "About Us" tab above to learn about all our programs and how you can help.
"Like" us on Facebook and follow us on Twitter @Jeff4Scholars for the most up to date information of goings on at the Jefferson Dollars for Scholars!!
---
Cookin' for College
Chili Cook-Off
Sponsored by Bayhi Shake
November 17, 2018
11:00 am - 4:00 pm
at
Ronnie's Gas Station in Metairie
The Cookin For College Chili Cook-Off is a family event sponsored by Bayhi Shake to benefit Jefferson Dollars for Scholars where attendees can sample delicious homemade chili. You'll even have a chance to vote for your favorite!
Kids can enjoy a Kid's Adventure Area & adults can relax and watch the game on a large screen television in the "Game Day" tent! There'll also be plenty of arts & crafts vendor as well as music, balloon animals, games, & a raffle with prizes.
The festivities will begin on Saturday, November 17th at Ronnie's Gas Station in Metairie! Tell all your friends and family and come out to support this event! It's fun for the whole family!
Come out and attend a fun and tasty event while helping us raise college funds for our Jefferson Parish students! For more details, including ticket information, please visit https://www.cookinforcollege.org/.
See you there!
---
Massachusetts learns about
Jefferson Dollars for Scholars!!!
---
Katy Wong is our 2017 Tulane award recipient!!!
See the beautiful wooden digital fabrication
of her award picture that she created!
We're so proud of you, Katy!!!
---
Click here to view photos from our
2018 College Awards and
Enrichment Camp
Awards Ceremonies
---
Jefferson Parish Schools are working hard to raise $1.00 per student and staff for our scholarship fund. Please support your child's school.
HUNDREDS of ambitious and dedicated students are looking to Jefferson Dollars for Scholars for educational assistance. Please go to the Donate Now page and DONATE what makes you feel good and proud to be part of a community that invests in its own future.
We will all be GLAD to have so many GRADS.
---
We're in the national newsletter!!!!!!!!!!!!!
inTouch, Scholarship America's monthly newsletter, recognizes Jefferson Dollars for Scholars in their February issue for its innovative Laptops for Scholars program, a program created so that every Jefferson Dollars for Scholars college scholarship recipient starts college with the most important school supply.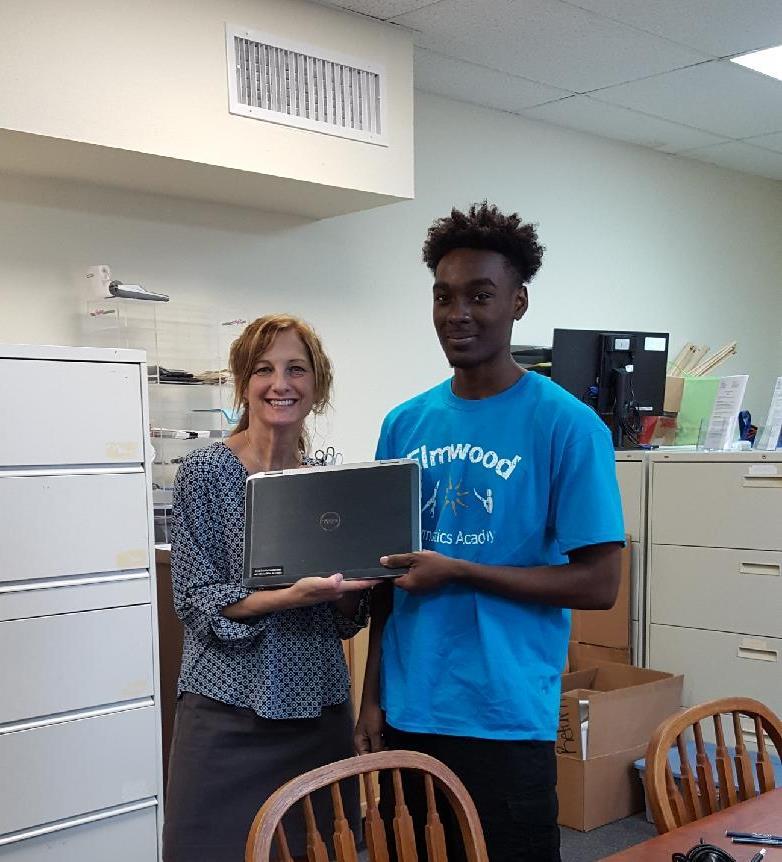 (Pictured above: Millie Baudier and Anthony Nunnery, a 2017 Cox Award Recipient)
Jefferson Dollars for Scholars has awarded scholarships to students in Jefferson Parish, LA since 1993. After Hurricane Katrina, the affiliate sought to meet the needs of their scholarship recipients in an additional way by providing refurbished laptops and has been doing so ever since. Jefferson Dollars for Scholars provides over 100 refurbished laptops annually to its award recipients. Laptops for Scholars is sponsored by Cox Communications, and Millie Baudier, our Board Member and Cox Community Specialist, presented the laptops.
---